Weapons
are what you use to fight
T.O.O.L
. Some weapons require W.B. (War Bucks) which you need to pay for in real money, or through watching videos. The other weapons can be bought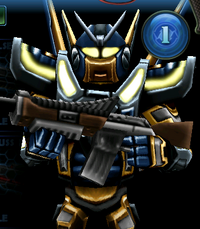 with in-game currency. The better the weapons, the more money they cost. Generally, the superior weapons usually cost W.B. rather than gold (the currency you can earn by playing the game). The prices range from about 225 to 81000 gold. The player can also pay WB to
upgrade
a gun to improve its statistics. There are seven different classes of weapons. They are: Pistol, Rifle, Shotgun, Spread, Heavy, Special, and Laser.
Pistol: Pistol class weapons have generally a fast rate of fire and longer range. Many pistols increase your character's speed by 12%. Pistols do not do splash damage, but their high projectile spread compensates for this.
This item is currently not available! --> *
---
Rifle: Rifle class weapons have a generally high rate of fire and emit projectiles in straight, slim lines, or expanding wave patterns. They usually are a good, balanced weapon, with enough damage to fell T.O.O.L. peons in very few, even single blows. No available rifles increase or decrease a character's speed.
---
Shotgun: Shotgun class weapons have a low rate of fire and have a very short but wide range. This is made up for by their high damage. Shotguns do not have any effect on a character's speed, the exception to this being the Pepper Grinder, although some shotguns will increase the player's speed when upgraded due to their lightweight appearance.
---
Spread: Spread class weapons have a relatively average rate of fire, and low damage (per barrel) but fire in a wide spread shot. These weapons are useful especially on planets like Bokor, where a weapon is needed that can consistently output a large number of projectiles over a large area. Spread guns do not have any effect on a character's speed.
---
Heavy: There are generally two groupings of heavy class guns: usually they either have high damage and a low rate of fire (missile/rocket launchers), or they have low damage and a very high rate of fire (gatling guns). All heavy class guns decrease your character's speed (except for the Apocalypse and the Kraken, which both increase speed).
---
Special: Special class weapons vary greatly in statistics. As the name suggests, these weapons are unique and each have their own special ability. Special class weapons can both decrease or increase your character's speed (depending on weapon).
This item is currently unavailable! --> *
___________________________________________________________________________________________
Laser: Laser class weapons appear to fire continuously, but actually just have a high rate of fire and deal decent damage. All laser weapons have no effect on the player's speed, which means they're great for lower level players, although lower level players probably would not or could not get these since they are quite expensive.